Jennifer Lawrence may have lost for "Best Supporting Actress" at Sunday's Academy Awards, but let's be real – she definitely won for "Most Adorable Tripper of All Time," right? It's now been two Oscars in a row that J-Law has tripped -- we're starting to see a trend here.
Chelsea Briggs explains more in today's Hollywire Hot Minute!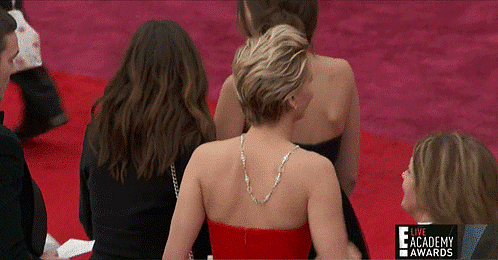 Related Article: 2014 Oscar Gowns That Rocked the Red Carpet
It's official: Jennifer Lawrence is the most beautiful, talented klutz on earth. Stepping out of her limo after arriving at Sunday's Oscars, she looked absolutely beautiful in her red Dior gown. But a few moments later, she tripped over a cone on the red carpet! She already stole the show right after she showed up!
Let's not forget that this fall comes one year after she tripped walking up the steps to receive her "Best Actress" award at the 2013 Academy Awards. In fact, the host of the evening, Ellen DeGeneres, just had to poke fun at J-Law during her opening monologue. Obviously she couldn't let that one go!
Regardless of the fall, she's still a total winner in our book! Her style is flawless, but it's her flubs that make her the most charming.
Do you think Jennifer should have won for "Best Supporting Actress?"
And was she Best Dressed last night?