There are SO many incredible artists on the music scene right now but you guys, we need to talk about Halsey. Her album Badlands has been on repeat since it dropped in August and her song "New America" is our jam!
But with all the buzz around her, it might be time for you to jump on the Halsey bandwagon now. So, we're here to help you: we present 10 fun facts you may not know about the up-and-coming artist (who will no doubt be HUGE in 2016).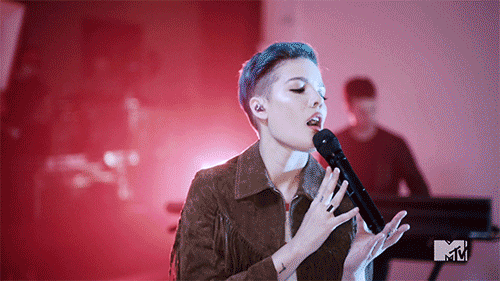 1. Her Real Name Is Ashley
Well, Ashley Nicolette Frangipane to be exact! Her stage name, Halsey, is an anagram of Ashley, but it also comes from Halsey Street in New York City. "I grew up in New Jersey, and I would always take the train into New York, and I was getting into a lot of trouble," she explained to Nylon Magazine. "When I was 17 I was seeing a guy who was 24 and he lived on Halsey Street in Brooklyn. That's where I first started writing music and where I started to feel like I was a part of something bigger than my town in middle of nowhere New Jersey. Halsey is kind of like a manifestation of all the exaggerated parts of me [Ashley], so it's like an alter ego."
2. She Went Viral For a Song About Haylor
So you may have seen this video that Ashley created back in late 2012 and you didn't even know that fast forward three years later, she would be one of the biggest up-and-coming artists! Halsey went viral with her breakup anthem song for Harry Styles and Taylor Swift, which was widely spread by Directioners. And look at her now!
3. She's a Hard-Core Directioner
Well, I guess what's pretty obvious based off her Haylor song, but it's true – Halsey is a hard-core 1D fan and you know what – it makes us appreciate her even more.
4. She's Good Friends With 5SOS
What we would give to be apart of this friend group! Halsey has become pals with the fellas of 5 Seconds of Summer and Luke Hemmings even nicknamed her Ashley Panini.
5. She Can Write a Song in 20 Minutes
Okay, now THAT's talent! Halsey's song writing skills are way more than knowing how to put the perfect words together – the fact that she can write a hit song that quickly can't be overlooked. She said in an interview that she writes so quickly because "once [she] starts, [she doesn't] stop."
6. The 1975 Had a Huge Impact On Her
We'll let Halsey explain this one: "As far as people in my lane and my contemporaries, when I first started writing I was a huge fan of this band called The 1975. I went to see them in concert, bought tickets, met Matty [Matt Healy]. And in a weird way he's been influential to me just because of his lack of care. His lyrical contest is a lot of dialogue, a lot of places. It's very descriptive and it creates this honest, authentic image. That's something that really influenced for sure."
7. She Hopes to Work With Ed Sheeran
Oh man… can you imagine that song?! Halsey has been very vocal about wanting to work with Ed, saying, "He nails that super personalized lyric thing. I think it'd be fun to work with him. At the end of the day my songs are dressed up with all this trendy, cool production that I love, but when you strip my songs down I think they're all pretty much Ed Sheeran songs. That's how it is." Ed, can we PLEASE make this happen?
8. People LOVED Her at SXSW
In fact, people loved her so much that Twitter deemed her the most tweeted about artists at SXSW 2015. And she even beat out Miley Cyrus!
9. She Has Bipolar Disorder
Halsey has been very open about being bipolar and she's determined to dispel any misconceptions about metal illness. Guys, this is why we love her. "The thing about having bipolar disorder for me, is that I'm really empathetic," she said. "I feel everything around me so much. I feel when I walk past a homeless person, and I feel when my friends breaks up with someone, or I feel when my mom and dad get into a fight and my mom's f—kin' crying over dishes in the sink."
10. She Loves Rap Music
Taking one listen to Halsey's music and rap music wouldn't be the first thing you'd expect her to love. But hey – don't judge a book by its cover. "All I listen to is rap music. And a lot of that comes from the point in my life that I'm at as well, because when you're in high school you listen to The Artic Monkeys and The Kooks because it's relatable. They sing about driving down the highways with the windows down and a cute girl in the back seat. That's something my friends and I could vibe with. Now I listen to a lot of rap and R&B because it's like 'I haven't been home in a long ass time and I just spent way too much money at the mall' and I'm like, 'SAME.' And so I've been listening to a lot of that lately and it's definitely coming through a little bit stronger."
Are you a fan of Halsey?