Is anyone else feeling a little empty now that the 2016 Golden Globes are over? It's one of our favorite award shows and this one definitely did not disappoint. Ricky Gervais was shocking (which was to be except) and there were plenty of fantastic, not so fantastic and just down-right cringe-worthy moments throughout. So, let's break them all down, shall we?
The Good
1. Rachel Bloom's Acceptance Speech
How freakin' cute is Rachel Bloom?! She's been receiving nothing but praise for her role on Crazy Ex-Girlfriend so her winning "Best Actress in a Comedy of Musical on Television" was definitely well-deserved. Her frantic, tear-worthy, funny acceptance speech just made us love her even more!
2. Eva Longeria & America Ferrara's Moment
After this moment, the exact words that came out of our mouth was, "YAS!" After the Golden Globes Twitter account mistaken America Ferrara for Gina Rodriguez, these two ladies totally had us laughing while poking fun at it. 
3. Jonah Hill as the Bear from The Revenant
Well, this one could technically be in the Awkward category (or bad if you're Jane Fonda. She wasn't having any of it). While Channing Tatum and Jonah Hill presented the first award of the evening, Jonah talked some major s—t (jokingly) about Leonardo DiCaprio. Well, that's what we guess he was saying since he was bleeped a majority of the time.
4. Amy Schumer and Jennifer Lawrence = Squad Goals
Nothing better than seeing Amy Schumer and Jennifer Lawrence on stage together. Why? Because it further proves that WE NEED TO BE BEST FRIENDS WITH THEM. Also, can they please host next year's show? Please and thank you. #ASchu #JLaw
5. Brad Pitt and Ryan Gosling Together
This was way too much pretty for one stage. And the fact that we didn't know they'd be presenting together left us completely unprepared for all the feels we felt! So many heart-eyed emojis, you guys…
6. Taraji P. Henson Wins "Best Actress in a TV Drama"
Everything about this was perfect! The handing out the cookies, the "Wrap? I've waited 20 years for this – you goin' wait" – Taraji P. Henson IS Cookie and we LOVE her. 
The Bad
1. Ricky Gervais' Transgender Jokes
From Caitlyn Jenner's driving skills to wondering how Jeffrey Tambor hid his testicles on Transparent, these jokes were honestly in just bad taste. Transparent creator Jill Soloway told Buzzfeed News, "I know his thing is to make fun of everything, but I think if more people understood the violence trans people face every day, it would be harder to make jokes about it."
2. Pretty Much Everytime Ricky Was On Stage
Sure, Ricky probably walked into tonight with a, "I don't give a f—k" attitude but it seemed like every, single one of his jokes didn't settle well with anyone. Can Tina Fey and Amy Poehler come back? Or can we at least have Jennifer Lawrence and Amy Schumer host next year? 
The Awkward
1. Ricky Gervais' Opening Monologue
Yikes! Now, once we heard that Ricky would be stepping back into his hosting shoes for this year's show, we all were wondering just how far he would go. Well, he did not hold back… and by the sounds and looks of it, some of the celebrities in the audience weren't exactly the biggest fan of his monologue.
2. Ricky's Matt Damon/Ben Affleck Joke
Let's be honest: Matt Damon is getting an angry text from Ben Affleck tonight after Ricky's joke. So what did he say? "He's the only person Ben Affleck hasn't been unfaithful to." Ouch! And Matt's reaction afterwards? Yeahhh… he even thought that was a little rough. 
3. Whatever the Hell Happened With Ricky and Mel Gibson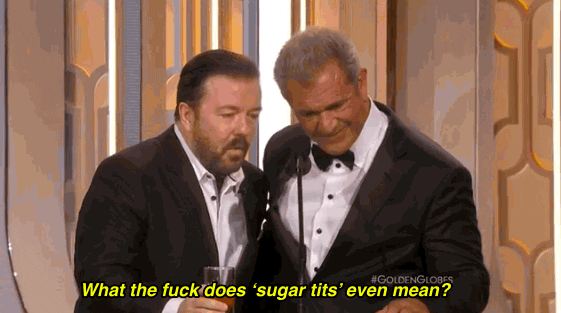 Was it just us or did it look like Mel Gibson was having NONE of Ricky's jokes for the evening? To be far, the introduction for him wasn't exactly the most flattering. But honestly… it looked like two people on stage together, who cannot stand one another and it was just down-right awkward. 
4. Leonardo DiCaprio's Reaction to Lady Gaga
It's all fun and games until you awkwardly bump into Lady Gaga... or she bumps into you! While walking up to accept her big win of the night, Gaga casually bumped into Leonardo DiCaprio's, who's reaction was priceless! 
What was your favorite moment from the night?